Please create an account or log in then return to this page to register for the contest.
Contest Overview
(1) Select a tournament fantasy team of 10 players that conforms to the following roster:
4G, 4F, 2C
(2) No more than 2 players can be chosen from the same NCAA Tournament team. For example, your roster can consist of at MOST 2 Duke players.
(3) The First Four (Play-in) games do not count towards scoring.
(4) Once the contest starts there can be no changes to your roster - so choose your players wisely. Players will accumulate points as they progress throughout, with the winner having the most total points.
(5) Entries for this contest will be accepted until Thursday, March 16th, 2017 at 11AM EDT.
(6) This contest is FREE to enter and no purchase is necessary.
(7) Only 1 contest entry per person is allowed.
Prizes and Participation
(1) The top 3 entrants will receive the following prizes:
Grand Prize -
Affordable Trophies
Custom Trophy + 1 Fantasy Postseason T-shirt ($100 Value)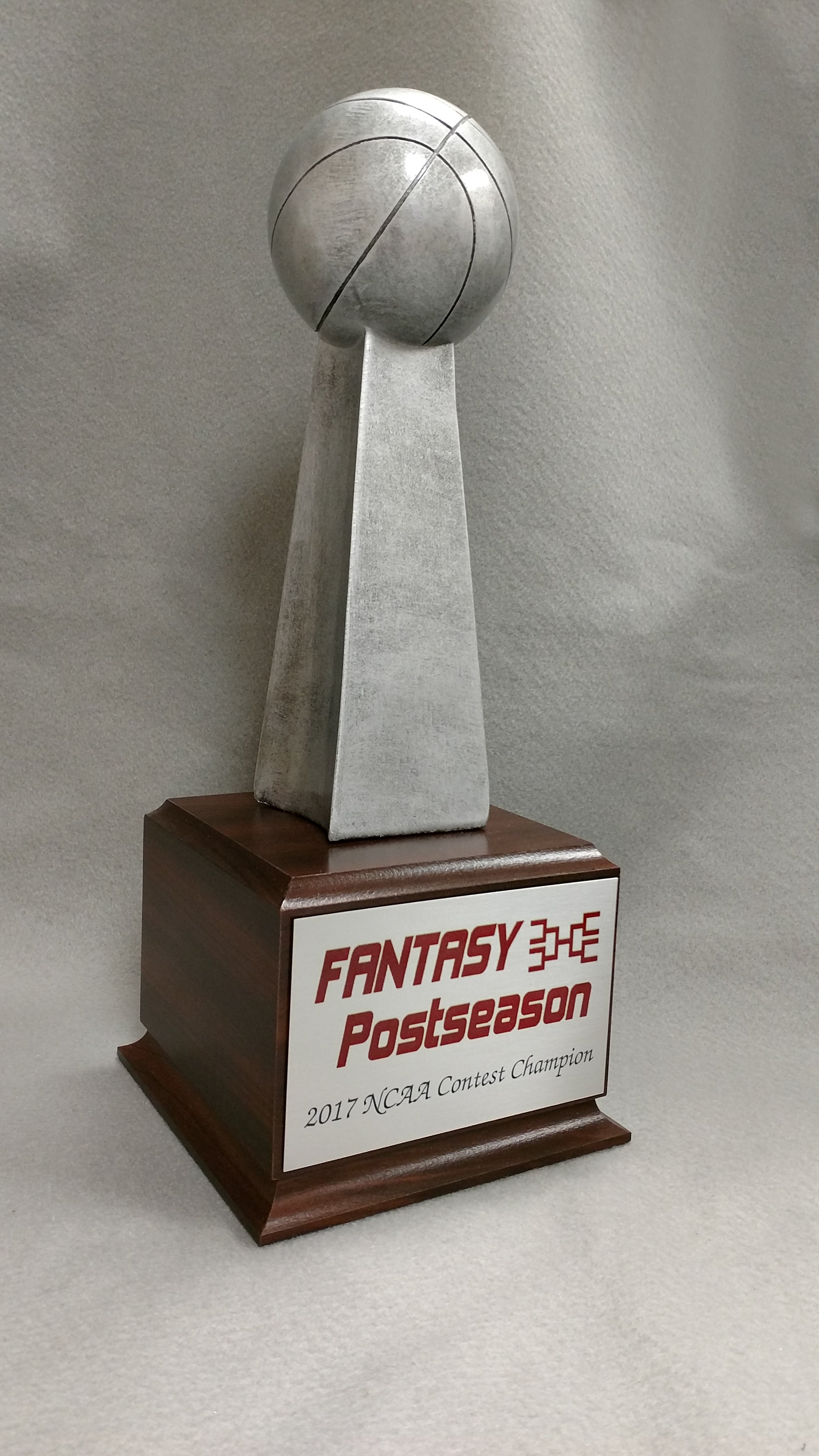 2nd place - 1 Fantasy Postseason Pro Subscription (Free premium leagues for a year) + 1 Fantasy Postseason T-shirt ($70 Value)
3rd place - 2 Free Fantasy Premium Leagues ($40 Value)
(2) All contestants agree that they have complied with all contest rules, and that Fantasy Postseason may publicize winner's information.
(3) In the event of a tie, a coin flip will be used to determine winners.
(4) All personal information including email addresses provided by contestants will be kept confidential and secure and may be used for further marketing and promotions by Fantasy Postseason.
(5) All decisions made by Fantasy Postseason judges are final and binding.
(6) Fantasy Postseason reserves right to cancel or modify this contest if it determines that the contest can't be run as originally planned or if fairness or integrity of contest compromised.
(7) Fantasy Postseason may substitute prizes of equal value if original prizes can't be awarded.
(8) All winning contestants agree to release Fantasy Postseason from any liability associated with these prizes.
(9) All contestants must be over the age of 18, citizens of the United States, and residents of states that allow such contests.
Please create an account or log in then return to this page to register for the contest.