Fantasy Postseason Champions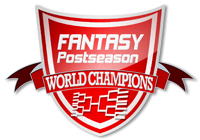 Here are the legends of Fantasy Postseason. These are the top fantasy players on the site. Step up your game and be the next one to win a Fantasy Postseason Championship.

Note: Fantasy ratings are determined by league performance with an emphasis placed on recent championships. Also, only leagues with 3 or more members have been factored into these calculations with increased weighting on titles won in larger leagues.


"Fantasy Postseason offers a unique niche in the fantasy sports world. I play many fantasy sports games and have yet to find a site that will host our postseason needs. Having the automated service not only saves a lot of time but gives us options to extend the fantasy season to playoff games for multiple sports."
- Paul B., Commissioner